Lolita is a fashion that originated in Japan, specifically in the Harajuku area of Tokyo, which is often heavily populated by teenagers of all styles on the weekends. Lolita is often cited as being influenced by the Victorian and Rococo eras, however, it is a modernised, very loose take on either period. It was first recognised as a subculture in the late 1980s, and has evolved much since then. It is generally agreed upon that what makes a garment (skirt, dress, etc) Lolita is the abundant use of frills and lace, and a knee-length (or just above-the-knee) bell-shaped skirt. Lolita has many substyles, however, there are three main substyles that are the most common and widely accepted:
甘ロリ: Sweet Lolita or Ama Rori is the original Lolita fashion, most recognisable by its use of pastel and childish motifs. Baby pinks, lavender, pale blues and mints are popular colours, while fabric patterns of pastries, rabbits, or other cutesy (Sweet) prints are common. It is the most babyish of all Lolita styles. Typical Sweet Lolita brands include: Baby, The Stars Shine Bright; Angelic Pretty; Metamorphose temps de fille; and MILK.
Classical Lolita makes use of more neutral colours, such as brown, dusty pink, cream, navy, sage, and the occasional black. Floral prints are also found within this substyle. A subtle difference between Classical and other Lolita styles is that the bell skirt is sometimes traded in for an A-line shape. Some Classical Lolita brands are: Innocent World, Victorian maiden, and Mary Magdalene.

ゴスロリ: Gothic Lolita or Gosu Rori is the dark side of Lolita, and the newest style of the "top 3" to appear. It is attached to the Japanese visual kei music scene, having been popularised by visual kei "queen", crossdressing male guitarist Mana. Although it is often recognised by Goth culture in the West as a sort of little sister to the subculture, Gothic Lolita is very different from the typical Gothic look seen in the West. It is sometimes referred to as looking like a "haunted Victorian doll". You won't find any spikes or red lipstick in this look. It maintains the typical Lolita skirt shape and length, but trades out the softer colours found in other Lolita styles for darker hues, such as black, grey, and dark jewel tones of red, green, blue and purple, such as those found in the stained glass window of a cathedral. Popular prints include cemeteries, roses, and crosses. Gothic Lolita brands include: Moi meme Moitie (designed by Mana himself), Atelier Pierrot/Atelier BOZ, Black Peace NOW, and Antique beasT.

Despite being called Lolita, Lolita fashion has zero connection to Nabokov's (infamous) novel Lolita. It  has been referred to as a "hyperstylised view of femininity", and many Lolitas view how they present themselves as being a relative "fuck you" to the male assumption of how girls "should" and "shouldn't" be, specifically as they become young women. A Gothic Lolita stated in an article by Comics Beat:
"We certainly do not do this for the attention of men. Frequently, female sexuality is portrayed in a way that is palatable and accessible to men, and anything outside of that is intimidating. Something so unabashedly female is ultimately kind of scary – in fact, I consider it to be pretty confrontational."
Crossdressing boys are more than common in the visual kei scene, and Lolita is no exception. Mana (often called Mana-sama by fans), most notably the guitarist of hugely influential band Malice Mizer, has worn Gothic Lolita since the mid-late 90s, and started his own brand in 1999, called Moi meme Moitie. Hizaki, guitarist of Jupiter (among others), occasionally wears Lolita of varying styles, as well as the vocalist Kaya, who has even designed a capsule collection for the internationally famous Baby, The Stars Shine Bright. The band Versailles (whom Hizaki preformed with prior to Jupiter) also collaborated on a collection with Baby.
In more recent years, Lolita fashion has gained popularity overseas, especially with fans of anime (Japanese cartoons) and manga (comic books). There is a large Lolita community on Livejournal, with various branches dedicated to buying and selling clothes, daily outfit posts, and coordinating meetups. The Livejournal page with the most global activity is http://www.egl.livejournal.com. Many anime conventions all over the world now feature Lolita fashion shows, tea parties, and gatherings alongside the ever-present video game and cosplay competitions. (With the mention of cosplay, although Lolita fashion is over-the-top and often very impractical, it is not a costume. In Mana's words on Moi meme Moitie: "I think of them as day-to-day clothes.")
Lolita is a quickly growing subculture, and has a bright future ahead. (However: May it never, ever reach Hot Topic.)
Above: Mana in Moi meme Moitie for the mook (magazine-book) Gothic & Lolita Bible
Above: a Classical Lolita outfit (found on daily_lolita Livejournal. This Lolita's blog is: http://kagome-no-yume.livejournal.com/)
Above: an OP (one-piece dress) from the Versailles x Baby, The Stars Shine Bright collection
Above: Kaya in a custom dress by Baby, The Stars Shine Bright for his "Marionette" music video (Kaya also wore a Baby dress and the bonnet showen above for all of his live performances on this "Nocturne" album tour)

Above: a Sweet Lolita in Angelic Pretty

Above: a Classical Lolita JSK (jumperskirt) by Innocent World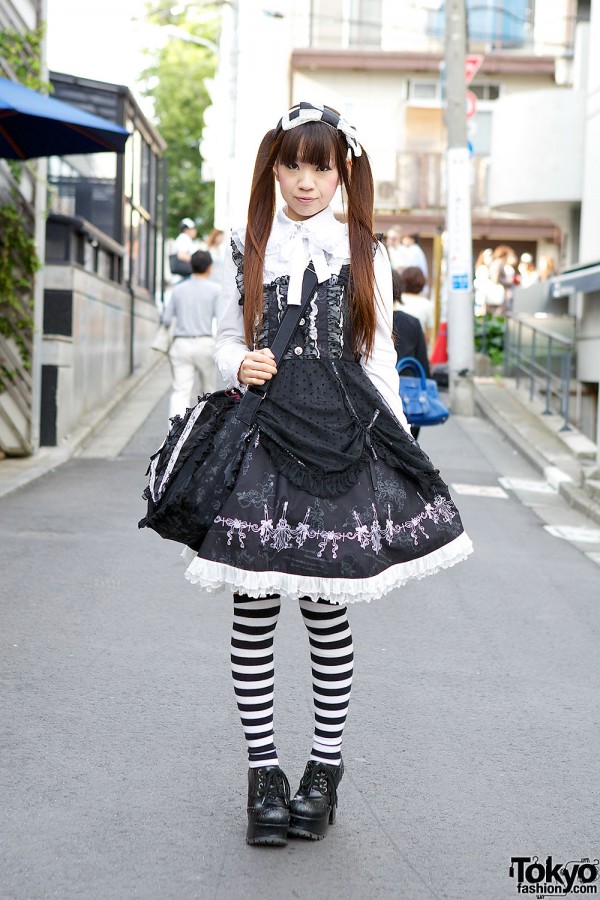 Above: a quirky Gothic Lolita style in Harajuku (her outfit features Naoto Hirooka's renowned Gothic brand h.NAOTO)

Some Lolita links for the curious that were not already mentioned:
Daily Lolita outfits http://daily_lolita.livejournal.com/
Lolibrary (Lolita fashion database) http://lolibrary.org/
hello lace (another database) http://hellolace.net/
Lolita Indies (Livejournal dedicated to indie Lolita brands) http://lolita-indies.livejournal.com/
Elegant Gothic Lolita group on Polyvore http://www.polyvore.com/egl_elegant_gothic_lolita/group.show?id=172429
sweet and gothic lolita group on Polyvore http://www.polyvore.com/sweet_gothic_lolita/group.show?id=3660
Lolita sets on Polyvore:

lace-of-queens (varying styles) http://lace-of-queens.polyvore.com/
sakuuya (varying styles) http://sakuuya.polyvore.com/
wondi (Gothic and Classical) http://wondi.polyvore.com/
tamichan (varying styles) http://tamichan.polyvore.com/
rosesandsmoke (Gothic and Classical) http://rosesandsmoke.polyvore.com/