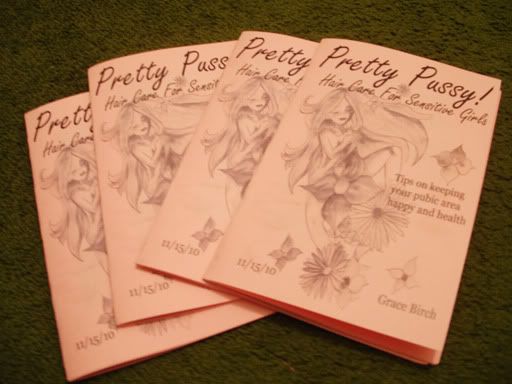 14 pages long, black and white printed on pink paper, Pretty Pussy! is a minicomic piece on the topic of pubic hair grooming and body image.
Iv been working on it steadily for the past few weeks, had the idea in my head for forever. I wanted to do something feminine and uplifting, and heres what Iv come up with. Tips on hair removal and how to keep your skin clear afterwards of ingrown hairs and rash. While it is of course focused on women, all the tips would work just as well for men who want to shave. :)

Its my first ever zine so Id really like to get it out there! I would love to do some trades if anyone is interested.
Iv also listed it on my ArtFire account for 2.50$
http://www.artfire.com/modules.php?name=Shop&op=listing&pro...