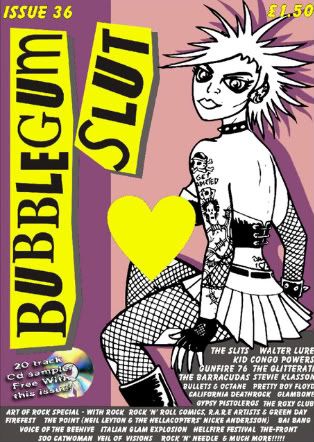 Issue 36 is out now, and here's what's inside:
Walter Lure : An in-depth interview on a Heartbreakers' journey from trash alley to Wall Street!
Kid ....Congo.... Powers : Former Cramps, Gun Club and Bad Seeds man on his new band The Pink Monkey Birds!
The Slits : Tessa Pollitt talks celebrating 30 years and new album 'Trapped Animal'
Gunfire 76 : Wednesday 13 puts the skeletons back in the closet and goes forth with his new dirty rock band
The Glitterati … finally set a release date for their second album!
The Barracudas : reminiscing with perhaps ....London....'s only surf-punk outfit as a new retrospective compilation goes on sale
Stevie Klasson : The guitarist from Johnny Thunders' Oddballs talks about his ....Stockholm.... vintage guitar store
Pretty Boy Floyd : Steve 'Sex' Summer and Kristy 'Krash' Majors on putting their differences aside and reuniting. Again.
California Deathrock : A brief history of the darkside of Sunset, featuring 45 Grave, The Gun Club, Christian Death, The Deep Eynde & Cinema Strange
Italian Glam Explosion : A few figures at the heart of the scene discuss why Glam metal is picking up in the Med.
Glambone : The guy behind the best place to get your rare glam online offers some opinions and choice tunes.
Gypsy Pistoleros : British flamenco glam comes home!
Andrew Czezowski & Susan Carrington : a chat with the ....London.... clubland legends behind The Roxy & The Fridge
The Point : New project of Neil Leyton & Hellacopters' Nicke Andersson
Art Of Rock special : Featuring R.A.R.E & Green Day exhibitions, and the resurrection of ....San Diego....'s Rock 'n' Roll Comics!
Songs From A Wasted Youth : this issue Voice Of The Beehive
Plus … interviews with Bai Bang & The-Front
Fashion from Rock 'n' Needle, Veil Of Visions & Soo Catwoman's Catwoman Clothing
Gig & festival reviews including Hellfire and Firefest
All your usual columns and a brand new one from Shane Flipside
And original artwork from Studio Diablo, Spooky Squiggles and Louis Howard
.
On this issue's free CD : The Bermondsey Joyriders, Battle Flask, The XGirlfriend Experience, (AllMyFriendzAre) DEAD, The-Front, Solid Ground, East End Trinity, The Hated, SexMess, Young Lust, Planet Eyelash, Distorted Breed, LiViD, Stupid In Stereo, First Time Riot – and bonus tracks from Nicotine Records including Walter Lure live, Skinny Bones & The Gonedaddys, The Neurotic Spiders & The Ashtones.
How To Order
To order using PayPal please use the Storefront in the 'about me' section of our MySpace page – www.myspace.com/bubblegumslutzine. Inclusive of ....UK.... postage copies cost £2.40, or £3.10 to European destinations and £4.00 worldwide. If you would like to order more than one copy outside of the ....UK.... please get in touch for reducing shipping rates.
You will also find details of ordering via NoChex & other payment methods in the same place on the MySpace page - and of course we also welcome trades from fellow zinesters!