i write stuff, make movies of the feature length and short variety (such as
fat dinsoty
), and sometimes make music.
dirty love #2 is finally finished! copies are $2 (that includes shipping). trades are great too! I still have copies of dirty love #1 as well from september 2007.
i also did a compilation zine with three of my lovely friends called "love is an action" with awesome quotes and drawings about the not-so-hallmark type love. we distributed it on our campus anonymously on valentine's day. i've got some copies of that for $2 (includes shipping)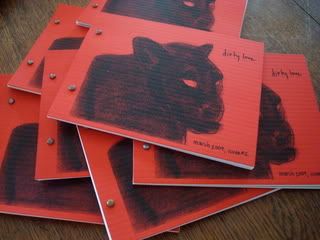 a few highlights from this issue--
a section about how religion/bodies/queerness intersect in my life, an interview with my fat love and my fat self about body image and more, lots about remembering in connection with our bodies, a piece about how to empower youth, and like issue 1 there is a sweet recipe and a "music i <3" section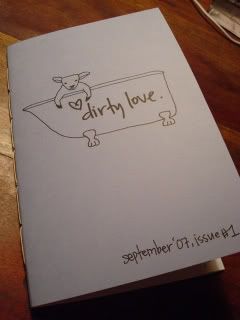 this collection of thought, theory, story, dream, and the tangible working through a body is about love. how do you love the parts of yourself that you have been taught to hate? how do you re-train your mind, become embodied and in love with what you inhabit? how do you create and support movements based in radical love?
dirty love #2 is available at
paper trail distro
. you can get it through there or buy/do a trade directly with me. i also still have copies of dirty love #1. i <3 trades, i wanna read yr zines & listen to yr mixes!
<3
JUNE 26, 2009: MY ADDRESS CHANGED SUPER RECENTLY. IF YOU HAVE STUFF TO SEND ME MESSAGE ME FOR MY NEW ADDRESS!